Background
The 1964 Grand Seiko Chronometer (caliber 430 / 43999) is a landmark timepiece, introduced by Seiko during the year of the 18th Olympiad in Tokyo. Seiko timed the games flawlessly, and their success at the 1964 Olympic Games gave Seiko international respect and credibility.
In 1964 Seiko entered the Astronomical Observatory Chronometer Concourse in Neuchatel, Switzerland for the first time and secured a 144th and 153rd place amongst the worlds finest chronometers. In 1967, SEIKO secured 4th, 5th, 7th, 8th and 12th place in the Chronometer Concours, winning 2nd and 3rd place in 1968. In 1969, with the advent of quartz movements, the Observatory contests of Neuchatel ended.

During the early 1960s Seiko displayed the 'Chronometer' name on selected, precision watches which had passed the in-house Seiko chronometer standard testing, the equivalent of the BO (Basel Observatory) Chronometer standard, but stopped displaying the 'Chronometer' designation in 1966 due to the lack of independent CICC Certification facilities in Japan. Today, precision Seiko watches displaying the simple 'Chronometer' designation are a rarity sought after by collectors, and perfectly reflect Seiko's "finest decade".

Caliber 430 (43999) Chronometer movement
Concealed below the subdued, pearl silver sunburst dial with faceted, applied steel markers and the modest legend: "SEIKO Chronometer, Grand Seiko, Diashock 35 Jewels" beats a chronometer-grade movement defined by hand-selected and impeccably finished components, fine regulator, self-compensating hairspring, generous jeweling and large balance.
Many of the new collectors often get confused with regards to the 43999 and 5722-9990. To facilitate your understanding, during my holiday in Nagoya, I have put together a summary information from the net for your easy reference.
Information from the net:
承接第一代 grand seiko 的生產,Suwa Seikosha Co.於 1963年 ~ 1968年 開發第二代 Grand Seiko
43999 (SS) 1963年4月 ~ 1965年4月
5722-9990(SS) 1965年4月 ~ 1966年12月
5722-9010(GC) 1966年8月 ~ 1966年9月
5722-9991(SS) 1967年1月 ~ 1968年7月
5722-9011(GC) 1967年5月 ~ 1968年2月

其實,第二代的 Grand Seiko 是可以以機芯再細分成三個時期。第一個時期為然 43999 用 430 機芯;第二期為 5722-9990 和 5722-9010,用 5722A 機芯;最後一期為 5722-9991 和 5722-9011,用 5722B 機芯。行 Low

Bea

t,是 Low Beat 錶中,最高級款式。

43999 / 5722 是單 date 設計;時間顯示位﹑時針和分針,前後左右都有切割邊。(此設計是首次被採用,亦是大家現在看到 Grand Seiko 的大多數設計。);Size︰36mm 闊

(不計龍頭)

;外殼主要用 Stainless Steel,但亦有 Capped Gold 版本;底蓋是︰Screwback type。

43999 基本資料︰
機芯 ︰ 430 (手動上鏈) 18000 bph (beats per hour)
石數 ︰ 35 Jewels

錶面為 放射紋,錶面有 SEIKO 顯示字,並印上 Chronometer, Grand Seiko

(鳥草字, G 和 S 是大寫)

, Diashock 35 JeweLS

(D, J 和 L 是大寫,35 字體是比較大)

, "logo",

(有些 seiko sportman 系列都是這個 logo ~ 三角型加倒轉三)

MADE IN JAPAN 43999TG。(

見圖 1)



圖 1.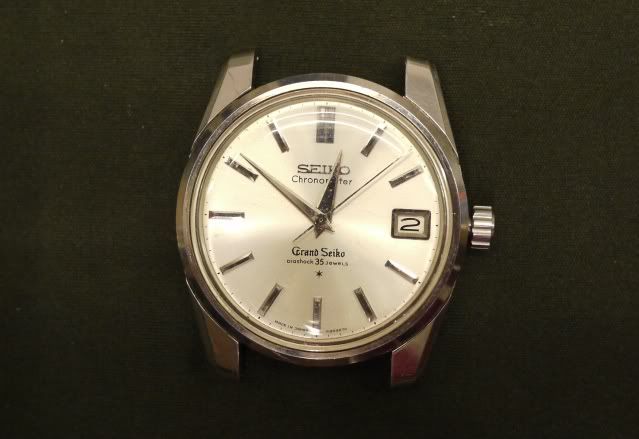 43999 的錶底,刻上 43999, WATER PROOF 50, SS ,並有獅子金章

。(獅子金章不是 Grand Seiko 獨有,它該是用來証明錶款是通過了 Seiko 內部 天文台時計 的憑據)

和生產年月號碼。錶底背面有圓形拋光。

(見圖 2 ~ 3)



圖 2.


43999 的機芯為 430,機芯刻上 GRAND SEIKO, CHRONOMETER, 35 JEWELS, 430 和 每件機芯的獨立號碼。

(見圖 3)



圖 3.



43999 的龍頭,是大坑的,"突"字 W SEIKO

(w = waterproof)

。但我這個該是在做保養時換過,坑紋比較利。

(見圖 4)



圖 4.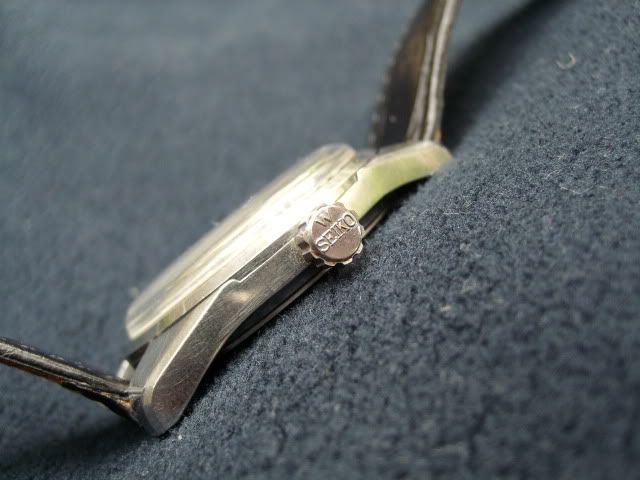 43999 其後改了 model no. 為 5722-9990,機芯亦改為 5722a, 亦是行 18000 bph,用大坑龍頭。

43999 vs 5722-9990 其實沒有什麼大分別。只是錶面和錶底型號不同,和錶面少了個 logo。