This is the original version of the Soviet Zlatoust diver's watch. I used to have one when in the 1997.
Manufacture: Zlatoust Clock Factory (USSR, 1970s)
15 jewels
Case: Stainless steel
Case diameter: 60 mm
Weight: 0,28 kg.
Dial: Black. The digits on the dial are covered non-radioactive luminous mass.
The movement: Mechanical hand wound
Information found from the net:

As early as in the end of 1941 the 1st State Watch Factory named by Kirov was evacuated from Moscow to Zlatoust and chronometers issue started herein for the Red Army. Evidence of industrial scale is given by the fact that watches from Zlatoust were installed almost in every tank and aircraft. After the war was ended it was decided to save and extend production in the Southern Ural. Zlatoust Watch Factory that has grown to large center of national watch industry in Soviet period was aimed basically for defense orders, but it also mastered and issued civil production successfully. The history of Zlatoust Watch Factory is lasting today.

In 1950-60s Zlatoust Factory has produced 191-ЧС (ChS) watches for submariners of the USSR navy among other things. Say the least of it, it is unique thing! The biggest wrist watch in the world: about 60 mm (without crown), weight is about 250 grams. Heavy stainless steel case is very complicated in production, but truly unassailable. At that time it was even produced with radioactive materials usage! In order to achieve the effect of fluorescence the numbers in dial were covered with radium salts.
The issue of diving watches on Zlatoust Watch Factory was stopped in the beginning of 1970s and gradually they were withdrawn from professional trade, but first of all remained to be a legend. But demand breeds supply.

That's why new Russian Divers watch production run from Invicta Company appeared on the market in 2003 that was fully copied externally from 191-ЧС (ChS) made by Zlatoust Watch Factory. But of course without radium and decreased by 8 mm in diameter for convenience of use. And also with defaced abbreviation "IMF USSR" on hour plate (kind of Russian roots were emphasized, Soviet navy (VMF) is reminded and letter I from Invicta is mentioned). From functional point of view this watch is more decorative and obviously yields to 191-ЧС (ChS).

But adventurous people are also found in Russia. They have used disrespectfully not only legend of 191-ЧС (ChS) but also the name of Zlatoust Watch Factory itself. Zlatoust Divers Watches advertised as original 191-ЧС (ChS) are sold in Internet and in some shops of Moscow and Saint-Petersburg about four years already mainly for tourists. By its size but not quality, its closer to original: smaller in diameter for only 1-2 mm, abbreviation and symbol of the USSR Navy are on hour plate and back side. It has also the serial number. Certificate is attached to the watch with QCD marks and "No radiation" stamp. Package box has "Ministry of Defense of the USSR Order" script and "ZlatouS Watch Factory" script (letter T is missed intentionally).

191-ЧС (ChS) also occurs as "Chajka" or "Poljot" in Internet watch shops except as piratic Zlatoust Divers. These "divers" are essentially smaller (10-12 mm) by its size than Zlatoust watch. Is it fake or Russian watch factories have answered to demand in such a manner? We didn't find out.
Production of 191-ЧС (ChS) was resumed on the initiative of a new director of Zlatoust Watch Factory. Now real "Russian Diver's Watches" are produced in the Southern Ural and only there.
Fluorescence effect was upgraded by way of nonreactive luminous material; new upgraded automatic mechanism is installed; new modern band made from leather; and some other changes made. But this watch is the original one that has the same functionality (it works on 700 meters depth), dependability (the watchcase is still made from stainless steel unlike fakes) and fabulousness. Although now the model is not marked as 191-ЧС (ChS), but it is marked as 195-ЧС (ChS) to show its improvement factor.


Interesting discussions and information from forum

In 1950s and 60s Zlatoust watch plant apart from other interesting products were producing 191-ChS watches for the Soviet Navy divers. Without any exaggeration, these watches are something unique! It's the largest watches in the world: diameter (without the crown) is about 60 millimeters, the weight is 250 grams. Massive stainless steel case is very complicated, but it's meant to be undestroyable on principle. And the most exotic thing about the watch is that it was produced with the use of radioactive materials! To achieve luminous effect, digits on the dial were covered with radium salt. Watches indicated a high level of radioactivity: the Geiger counter went beyond 8.000 (!) microroentgen per hour. Just for comparison: the natural level of radioactivity amounts 15-30 microroentgen and the permissible level of radiation for the housing accommodation must not exceed 60 microroentgen. But such a high level of radioactivity wasn't a technological miscalculation. For high intensity of dispersion of gamma-rays the level of radioactivity at the distance of 10-12 centimeters equals only 200 microroentgen per hour and if the distance is over 1 meter the emission of radioactive elements equals natural. Such a huge watch didn't feel comfortable to wear on the wrist but if the watch is on sleeve of the diver suit with dial positioned outside then the radioactivity hardly exerts harmful influence on the diver.




The production of these unique watches was stopped in the first half of 1970s. Since that time they have became a real legend. These watches and the legend behind them were especially popular abroad USSR and then Russia. Most evidently the story of Russian navy divers wearing radioactive watches seemed to be unbelievable and therefore especially attractive and intriguing. On the other hand, the soviet military watches have always been popular in the Western countries and around the world.
Below watch is NOT the original but replica.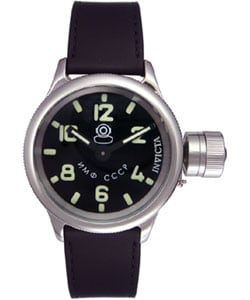 Smart fellows from Russia are also not idle and have joined in with this trend to get their tasty morsel from the pie called "Russian Diver". They unscrupulously use not only the legend of Zlatoust 191-ChS watches but also the name of the factory itself. They have been selling their fakes mainly to foreigners through the Internet and traditional watch shops in Moscow and Saint Petersburg, advertising them as authentic 191-ChS. They are almost equal to the real Zlatoust 191-ChS in size (1-2 mm smaller) but not in quality. Their fakes have serial number and "ВМФ СССР" logo on the dial and the back cover. A certificate with the "ОТК" mark with the "Не радиоактивно/No Radiation" stamp is applied to the watch. There is the inscriptions «Заказ Министерства обороны СССР» and «Златоусовский часовой завод» (where the letter "Т" in the word "Златоустовский" omitted intentionally).

The secret of new fake Zlatoust diver watches from Saint Petersburg discovered one of the members of WWII collectors' forum: Here is a citation from his post in this forum:

" … It`s even not a modern replica, just souvenir products having nothing to do with the USSR except the case of the watch. It's a "made in Saint Petersburg" watch made in 2005-07 years. The movement is from Molnija pocket watch and, how it is abovementioned, they often break down. I am acquainted with the author of this "project". By the way, if you have the box for this watch you can read on it: Златоусовский часовой завод (try to find lost letter!). The author thinks that if in case of any problem for him, this trick can save him. First time he was writing right: Златоустовский, then somebody advised him to do so." As you know this trick is usual for a "pirate".




Apparently, this smart fellow from Saint Petersburg has expanded the collection of his "Divers" up to 13 models at average cost of $350 and his business is going on well.