Please Visit Rolex.2itb.com http://www.horsyland.com https://photographic-experience.blogspot.hk/
Friday, August 12, 2011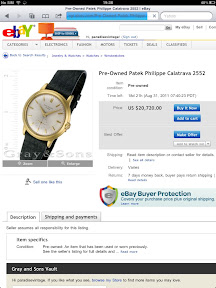 - Posted using BlogPress from my iPad
For those who is keen to look for a Patek 2526. Prices dependent on conditions and type of dial..
Location:
Check-in,Kloten,Switzerland
Wednesday, August 10, 2011
Trying to overcome my jet lag, I try to keep myself busy..my dream watches are definitely the Patek 3448, Rolex 5510, 8171, 6062..
- Posted using BlogPress from my iPad
Location:Seefeldstrasse,Zurich,Switzerland
Israel's Secret Operation to Recover the Watch of a Legendary Spy Eli Cohen in Damascus, Syria, in the early 1960s, wearing the watch that ...

The Seiko 7002 series of diving watches is the fourth generation of Seikos professional/recreational ISO-rated automatic diving watches. As ...

According to many experts,  during the early days of the Explorer, Rolex was unsure of the model's potential. As a result the Explorer ...