My first encounter with Patek watch was with my Sifu, Mr. TK Lee who first showed me the Patek jump hour in the early 1990s. As I have just graduated, I could not afford these nice Patek watches.
I have 4 dream watches: vintage Rolex moon phase, Patek Philippe ref 2552 and 3433 and 3445
1. Patek ref 2552
For those of you who are unfamiliar with this reference, it has been affectionately coined the "Disco Volente; flying saucer, due to it's beautiful stepped case. It has the quintessential patek dial lay-out; dauphine hands, faceted hour markers, and sub-second track.. The case size is approx. 35-36mm. In addition, the watch is equipped with one of the most beautiful Patek movements ever made the 12-600AT. This movement is lavishly constructed with no expense sparred; magnificent guilloched rotor, beautifully finished swan neck regulator, Gyromax, with breguet overcoil. The 12-600AT is truly a horological piece of art with a very nice solid gold rotating wheel.
According to pp records, only 7'100 movements cal. 12'''-600 AT have been made from 1953 to circa 1959 and were mounted in wristwatches bearing the references 2526, 2540, 2551, 2552, 2583, 2584, 2585, 3403, 3415, and 3425.
古董錶:18K金錶殼、自動上鍊、男妝腕錶、錶徑36mm、Ref:2552、約1955年、具時.分.小秒針顯示、銀質銀白色面盤、K金立體刻度時標、外圍有小圓珠點分刻度標示、劍形K金指針、機號Cal:12-600AT、鍍銠機芯有魚鱗紋及日內瓦波紋打磨、30顆紅寶石、高級Y字型紅寶石R角馬式擒縱結構、超精密鵝頸式快慢微調器、雙層藍鋼游絲、抗溫差砝碼補償合金擺輪、有8顆砝碼可微調時間快慢、經不同溫度五方位校準、早期的固定簧防震裝置。雙向推進式自動上鍊、有雕花的18K金自動盤、錶肉烙有二枚日內瓦戳記、拉桿式的調時裝置、弧形藍寶石水晶玻璃、透明錶背。
此款機芯是百達翡麗第一代自動上鍊機芯、它的特點是能穩定的自動上鍊不易損壞經久耐用、是Patek Philippe百達翡麗經典具代表性自動上鍊古董錶機芯、特別訂做18K金旋轉式防水底蓋並裝有弧形藍寶石水晶玻璃、18K金帶扣、手工製龍頭、錶殼.面盤及錶肉均有簽名.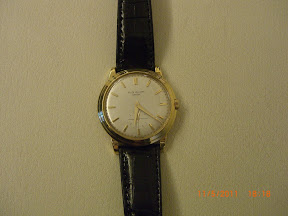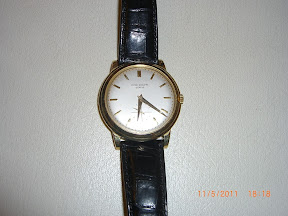 2. Patek 3433
From 1959, Ref. 3415, 3425, 3428, 3429, 3433, 3443, 3435, 3438, 3439, 3440, 3441, 3444 and 3454 were equipped with the second generation auto movements cal. 27-460 as well.Cal. 27-460 became the movement which was used for all automatic wristwatches and 27-460 Q for perpetual calendar wristwatches with automatic winding.Circa 1960, Ref. 2526 was equipped with cal 27-460, the latest automatic movement by Patek Philippe at the time and became the Ref. 3428.
3. 3445 is the watch with date using the caliber 27-460 as well.
- Posted using BlogPress from my iPad