I have always love the moon phase watches. During the course of my collection of Patek vintage watches, one watch has captured my attention, the Patek 3940 perpetual calendar moon phase watch. Even though it's a complication watch, it stil has he distinctive gentlemen watch look... Hope I can save enough money to get one soon!
The Patek 3940 was later replaced by 5140 and In particular the diameter of the case grew to 37mm, and they changed the bezel from a concave bezel to a convex [domed] bezel but have kept the Caliber 240Q movement.
3940, side by side with the Patek Philippe 5140.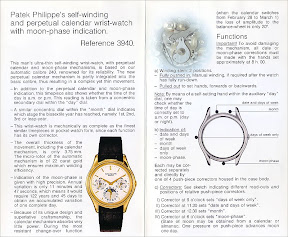 - Posted using BlogPress from my iPad