Vintage watch hunting is a very exciting hobby where one needs to have some patience to hunt for the best!
This is another cloisonné dial with map of the Middle east by Omega. This watch was bought from Saudi Arabia. My interest in the Middle East started after my first sight seeing visit to Egypt many years ago where I found my first cloisonné watch.
This is an extremely rare Polychrome Cloisonné Enamel Dail special creation by Omega in the 1960s for Aramco the state-owned national oil company of Saudi Arabia. The center area of the dial depicts the Saudi Arabian map in polychrome cloisonné enamel (green, yellow, blue, white) with the Saudi crest at the 6 o'clock position and an oil well near the 2 o'clock position over the location of Dhahran on the Saudi map. Dhahran is the residential community built by Saudi Aramco for its employees The cloisonné enamel dials represent one of the highest forms of art offered on an Omega (or any other) watch. The cloisonné (which literally means "partition" or "cell" in French) process begins with thin metal strips called "cloisons" being bent into shapes for and soldered onto the base to form the cells to be filled in with enamel. The piece is heated in an oven and cooled in order to permanently affix the cloisons to the base. Next, ground, colored glass, or "frit", is blended with water and painted into the sections marked off by the cloisons. It is allowed to dry before the entire piece is again fired in an oven. Multiple applications of frit and firings are often necessary to complete a single cloisonné work. Different colors or transparencies of frit may be layered on top of each other to create a desired look. Cloisonné is then finished by polishing the piece smooth.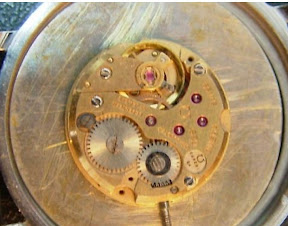 - Posted using BlogPress from my iPad