Being a history student, I have a deep interest in military subject. I have tried to start a military watch collection in the past but has never really got deep into it for various reason.
Lately, besides my vintage Longines pilot watch made for the Czechoslovakian air force, the Breguet Type xx made for the French pilot, I have added a JLC military watch. My recent find from Ukraine is the huge 55mm Laco military pilot watch made for the German pilot during world war 2. It comes with the original leather band! It seems like I can start the military series now..
There were five manufacturers: A. Lange & Söhne, IWC, Laco, Stowa, and Wempe. One down, four to go...
Military watches that have gone through world war reminding us not to have wars.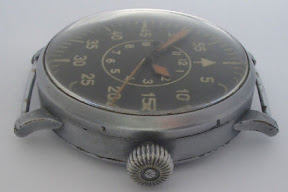 - Posted using BlogPress from my iPad